Bathroom Remodeler Lexington, KY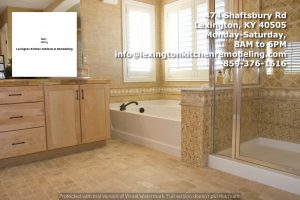 Bathroom Remodeling Services Lexington KY
Do you have a bathroom you can be proud to let your guests see? We would love to help you build a bathroom that is not only functional, but beautiful. Our craftsman don't simply see a bathroom remodel as a carpentry project - we see it as an opportunity to create functional beauty, and we'd love to show you what we mean!
There are many practical reasons you might be interested in a complete bathroom remodel. Maybe your bathroom has a need for new plumbing, new electrical, or maybe you simply have a desire for something new.
Regardless of the reason for your bathroom remodel, a top quality bathroom adds comfort, style, and elegance to any residence. Lexington Kitchen Cabinets & Remodeling employs Lexington's leading bathroom remodeling experts, and we would love to put our experience to work for you today with a new bathroom remodel in Lexington.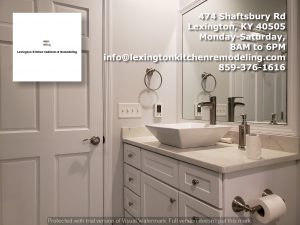 Professional Bathroom Designer
Let us assist you with finding just the right equipment and hardware for your new bathroom. You can schedule a free consultation today by calling 859-376-1616
We can replace or install ...
Bathroom Fixtures
Bathroom Sink
Bathroom Vanity
Bathroom Faucet
New Shower
New Bathtub
Bathroom Flooring
New Toilet
Bathroom Counter Tops
Bathroom Lighting
Bathroom mirrors
And much more!
We can work with the highest quality luxury materials available like marble or granite, or we can design a bathroom on a budget. Whatever your remodeling needs, our professional bathroom designers will work with you.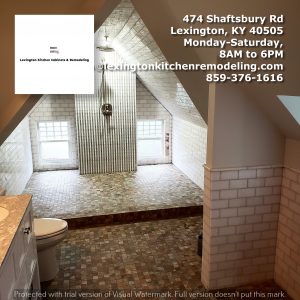 BATHROOM REMODELERS LEXINGTON, RICHMOND, GEORGETOWN KENTUCKY
Lexington Kitchen Cabinets & Remodeling will work with you to make sure your bathroom paint, tile, and everything else is exactly the way you want it.
When you hire Lexington Kitchen Cabinets & Remodeling to build you a new bathroom, rest assured you're hiring the best bathroom remodeling team in the Lexington, KY area!
Our bathroom builders and contractors are expert carpenters, home remodelers, and home improvement experts. We will handle your bathroom remodeling project with the care it deserves, and will work hard to make sure you're totally satisfied with your bathroom remodel.
Our bathroom remodeling design team is standing by to handle your requests, answer questions, and help you dream about what can become a reality for your home.
We would love to earn your business and help you with a new bathroom remodel today. Give us a call to schedule a free consultation at 859-376-1616
We would love to speak with you about remodeling your bathroom in Lexington, Richmond, Georgetown, or the surrounding Kentucky areas!
Bathroom Remodeling Projects