Quality Bathroom Remodeling Lexington KY
Lexington Kentucky Bathroom Remodeling
Your bathroom is a leading factor in the value of your home and its resale value. Not only that, but bathrooms are used daily and a considerable amount of time is spent in them by your family.
Additionally, bathrooms are frequently seen by guests. Homeowners typically want a bathroom that makes a great impression and is comfortable to use. At Lexington Kitchen Cabinets & Remodeling, we take pride is building bathrooms customers love and that they can be proud of.
Beautiful Bathroom Renovations Lexington KY
Our professional bathroom designers and bathroom contractors are experts when it comes to renovating bathrooms in Kentucky. We are well-versed on the latest trends, styles, and technologies present for use in your new bathroom.
Would you like a new shower? A new bathtub? New bathroom fixtures or tile? New bathroom flooring?
We can install a new bathroom vanity for you, bathroom light fixtures, bathroom flooring, and anything else you might want in your newly renovated bathroom.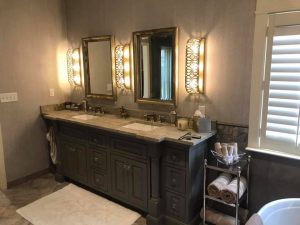 Best Bathroom Remodeler in Kentucky
At Lexington Kitchen Cabinets & Remodeling, we use only the highest quality materials for all our new bathroom builds from reputable manufacturers. We are licensed and insured contractors who perform our work according to local safety codes and regulations, and we understand our reputation is only as good as our last job.
We take pride in giving our customers the very best in service, guarantee satisfaction, and guarantee the quality of our craftsmanship.
When you hire us to remodel you bathroom for you, you're hiring the best bathroom remodeling contractors in Kentucky, and we're happy to prove it to you.
If we can help you investigate what it would take to give your family a newly redesigned and remodeled bathroom, please give us a call at 859-376-1616
You may also fill out the free quote form on this website. We would love to speak with you about building your new bathroom today! Please give us a holler - our design team is standing by to give you a free consultation.